New and better version:
http://games.reveur.de/board/showthread.php?tid=7383
A new project of Le Mans Prototype with the help of koce (conversion from Forza 3) and freddydaimler (I hope conversion from Grid). Thanks guys.
It was not possible to use the high poly cars (the one in Forza game) because around 100 000 polys without interior WR2 limit around 65 000. So I used the mid poly model and added the high poly interior but don't fit at 100% but looks good.
I release it as beta because wheels and driver are temporary but ready to drive. It's difficult to make the good position of the driver so I just made quick work with the driver but for the final will be better, animated and painted (helmet too). For all the cars I remapped the tire to have texture but will be reworked to the final and I'll modify the rear wheel like on the Peugeot.. but will take time. And I have many problem to make good view in the cockpit and hood cam because of antennas or driver position... So if someone use one of these views you can help me to make it better.
The engine specs are maybe different of the real because it's almost impossible to have data but after some test only the Acura was too slow to follow the others so I added more torque 500 to 650 and now the cars have balanced performance (unlike real) which is most interesting for me for a game. But after 5 laps at Le Mans the Peugeot was a bit faster after some laps but not the fastet time
(all around 3.20)
. All the cars are limited to 330kph/205mph for drive anywhere not tried to make a Le Mans setup.
But the draft of this game is just crazy
.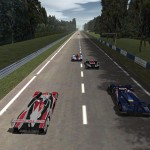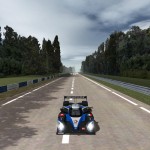 The diesel cars have diesel sound of the 908 which I recorded from video but not possible to find a good video of the Audi because of the wind.
You'll maybe noticed the both Peugeot are a bit different because fixed some little details.
wheels: 2007 red in left side and blue in right side and 2009 black
2007: added missing driver name
2009: added chrome and fixed the wrong tail light (was the old same as 2007)
Bugs:
Lights: all the cars have rear led lights and with 6 cars you can't see the lights. And the R15 have not all the led, they are missing of the top rear wing and in front too.
Cockpit view of R10: The wheel hit the legs.
No dirt and scracth.
No damage parts.
First part included some modern LMP1 of Forza 3 from 2006 to 2009 (the cars have driver but removed it for screens to show interior except R10 2008 and 908 2009):
Audi R10 TDI 2006 - #8 Audi Sport Team Joest
http://www.imagebam.com/gallery/1sagqoi9...x403ds2ab3
Peugeot 908 HDi-FAP 2007 - #8 Peugeot Sport
http://www.imagebam.com/gallery/qr5q7w7k...2upr1xfwy5
Audi R10 TDI 2008 - #2 Audi Sport North America
http://www.imagebam.com/gallery/zoz8wsqo...ysjkoommjl
Peugeot 908 HDi-FAP 2009 - #9 Peugeot Sport Total
http://www.imagebam.com/gallery/726a3tlq...nug0t3jr7q
Acura ARX-02a 2009 - #66 de Ferran Mortorsports
http://www.imagebam.com/gallery/14jh24sh...toes2bwiwx
Lola-Aston Martin B09/60 2009 - #007 Aston Martin Racing
http://www.imagebam.com/gallery/cmfhuoha...83w94985ek
Audi R15 TDI 2009 - #2 Audi Sport Team Joest
http://www.imagebam.com/gallery/qpt4gi3o...pfgrb7ka7a
@games.reveur team please don't make mirror only for the final version. Thanks.
The LMP2 will follow the next week I think.
2008 Acura ARX-01b (3 teams)
2009 Mazda B09/86 (2 teams)
2008 Porsche RS Spyder Evo (1 team)